Bonsai For Beginners In Australia
Bonsai for beginners in Australia encompasses the same practices of looking after a bonsai tree anywhere in the world but with an Australian twist.
In this article we discuss:
1. What is bonsai
2. How to care for your bonsai
3. Types of trees that are good for bonsai in Australia
4. Bonsai tree types and examples
5. Where you can buy a bonsai tree in Australia
6. Tips on caring for your new purchase
What is a bonsai?
A bonsai is a tree in miniature, trained and grown in containers. They are commonly used by people who wish to bring nature into their homes or offices.  Read more about bonsai types here.
Australian natives to bonsai
Over the last few decades, bonsai has become increasingly popular in Australia.
Bonsai for Beiginners Australia enthusiasts interested in this culture and art, there are lots of native species like she-oaks (casuarina), grevillea, and eucalyptus trees that are good for bonsai.
Best Types of Bonsai For Beginners Australia Using Australian natives 
Some of the most common Australian native trees that are suitable for bonsai include:
1. She-oak or Casuarina tree – this is a member of the casuarinaceae family and ranks among the best trees used for bonsai in Australia. It can grow up to twenty metres high with ferny leaves.
2. Bottlebrush or Callistemon – this is a shrub with dark red flowers and grows best in warmer parts of Australia.
3. Grevillea – there are over one hundred different species of the grevillea tree which range from ground cover to trees that can grow up to twelve metres tall. They can be grown as bonsai trees in the warmer months.
4. Eucalyptus – there are many different species of eucalyptus trees which grow well in Australia and are used by bonsai enthusiasts in creating various forms of the miniature tree.
Bonsai Tree Types and Examples
Almost any plant can be grown as a bonsai tree. However, there are a few common types that you should choose from if you're looking for one to buy in Australia.
These include:
1. Deciduous trees – these have leaves and shed their leaves during a certain time of the year which is Spring in Australia. Good examples include maples, cherries and elms.
2. Conifer trees – these are evergreen with leaves that remain on the tree all year round. Good examples include cypress and pines.
3. Shrub or Multi-branched trees – these have thick stems and grow in shrub form, good for bonsai in Australia such as boxwoods, barberries and quince.
Bonsai Tree Styles and Forms
There are different types of bonsai trees according to their shape, size and style.
1. Formal upright – this is the typical bonsai tree with an erect trunk and a thick base. These trees include maples, pines, flowering cherries and elms.
2. Informal upright – this is similar to the formal upright bonsai tree but with a more natural growth pattern. These include Australian natives like grevillea and bottlebrush trees.
3. Slanting – these are planted at an angle on special slanting shelves for displaying purposes only. They include Japanese red maples, weeping willows and pines.
4. Semi-cascade – these fall over with their tops facing down to achieve a more natural growth pattern. Traditional plants used include pines and flowering cherries.
5. Cascade – these are grown with the trunk projecting up from the soil at an angle of ninety degrees before curving back towards the floor. These include junipers, weeping willows and Japanese maples.
6. Clump or forest – these are grown as multiple trees in one container with a shorter trunk projecting up from the soil at an angle of less than thirty degrees before branching out several times. Examples include elms, pines and boxwoods.
7. Informal up-root – these have the trunk projecting straight up from the soil with the roots exposed. Good examples include pines and junipers.
8. Semi-cascade up-root– these are grown in a container as a cascade bonsai but have an exposed root system coming out of both sides near the top. These include elm, willow and junipers.
9. Root over rock – these are grown with the roots exposed and projecting over rocks or stones to give an even more natural effect. Australian natives like Casuarina, Grevillea and Eucalyptus make good candidates for this type of bonsai tree.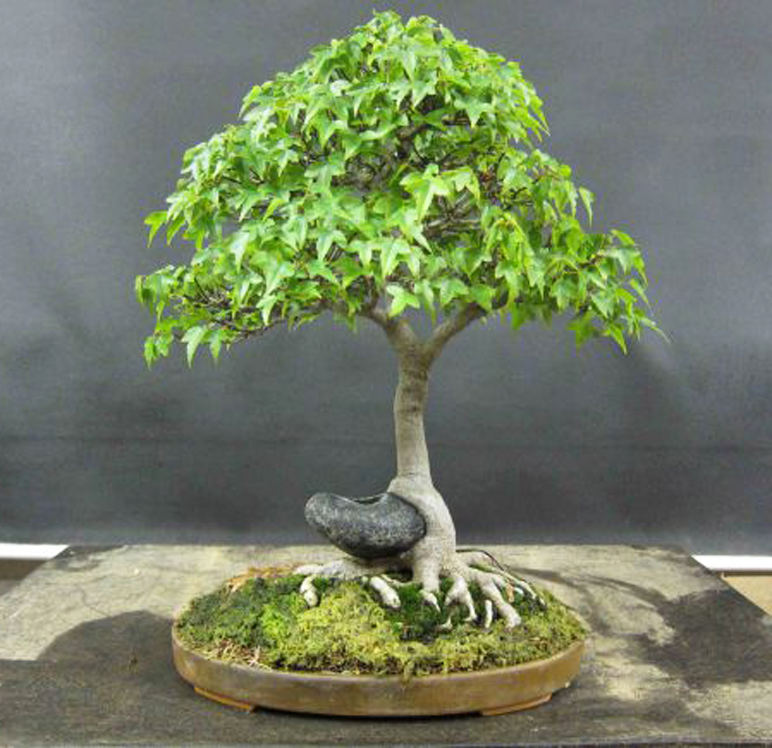 Bonsai Care Basics
1. Choose a bonsai tree to suit your climate – more often than not choosing the correct location for your tree will ensure it flourishes or fails miserably.
2. Ensure you choose a container that is deep and suitable for the plant size. The choice of container is a very personal decision, but always make sure there are drainage holes in the bottom.
3. Choose a pot that matches your plant. Deciduous trees will need to go into bonsai pots with wider drainage holes, while coniferous plants such as pines and junipers should be placed in smaller more shallow pots.
4. Use good quality soil for your bonsai tree and always plant your tree with same soil it was growing in.
5. Watering is one of the most important procedures for bonsai trees and should be done regularly but carefully .
Roots need to stay moist without being wet and water needs to drain freely from the base of the pot, so make sure there is good drainage where possible by using rocks at the bottom of the pot. Watering should be done with a watering can that allows you to give each tree the correct amount.
6. Fertilising your bonsai is necessary for them to thrive and this needs to regularly but in small quantities, especially if it is a coniferous plant.
To fertilise your bonsai tree you can use a good quality bonsai fertiliser that is available to buy online, or alternatively a standard liquid fertiliser for house plants should do the job.
7. Pruning and shaping your tree will be necessary in order to keep them looking like miniature trees and not shrubs. This should only ever by done on healthy branches as it is important to retain the health of your tree, otherwise you will only be causing more damage.
8. Deciduous trees will lose their leaves in the cooler months and this is perfectly normal, however they should always be kept moist during these times.
9. Branches that are touching or crossing can be pruned back so that new growth can sprout and grow in different directions
10. You should always use good quality water to keep your tree healthy, as using tap water or chemically treated water will be detrimental for your bonsai.
Never let the soil dry out completely as this will cause all kinds of problems with growth and also cause stress to your plant.
Bonsai For Beginners Australia – buy a Bonsai tree in Australia?
There are many bonsai nurseries around the country. Some of them have online stores where you can order your new tree and look at their range of bonsais from around the world.
Here are some of Australia's best places to buy a bonsai
Boasting over 30,000 individual trees in our bonsai nursery Melbourne bonsai enthusiasts of all skill levels can find the perfect bonsai plant to suit the aesthetics of their environment.
As one of the leading bonsai suppliers in Melbourne Bonsai Sensation can provide residents in Melbourne and throughout the rest of Australia the healthiest and most visually-striking bonsai trees.
Is one of Australia's most well-known suppliers of bonsai trees. With over 5000 plants available to buy online, Bonsai Shop Australia prides itself on offering the best quality material around.
A family-owned business located north of Brisbane in Bundaberg Queensland, we have extensive knowledge and experience with a wide range of species and styles. We invite you to visit our bonsai nursery and enjoy the vast collection of plants we have available for sale.
Located in Sydney, NSW they offer a professional service which is both friendly and knowledgeable about the art of growing bonsai trees. They carry an extensive range of bonsais for sale with a variety of species to suit all skill levels.
Based in Adelaide Bonsai South Australia is an award-winning supplier of bonsai trees. They have been growing and exporting beautiful bonsais for over a decade, and their collection of plants is absolutely amazing!
Every type of plant imaginable is available at the most competitive rates so log onto their website if you want to buy a bonsai today.
Located in Keperra, The Bonsai Man offers a range of bonsai plants for sale. They pride themselves on being able to supply the whole range of materials and have even designed their own bonsais which are available from their website.
Established over 20 years ago, you can rest assured that when you deal with this company they will go out of their way to make sure that you get the bonsai tree you want, at a competitive price.
Oxley Nursery Brisbane is a leading supplier of bonsai trees and have been in the industry since 1988. They pride themselves on having a large range of plants for sale, as well as having experience which others simply don't have.
Having grown and designed bonsais for over 20 years, they also offer workshops to educate you on how to care for your bonsai and even arrange for you to take part in an apprenticeship so that you can fully immerse yourself in the world of bonsais.
Bonsai Trees Gold Coast
Located on the Gold Coast, this company is one of the leading suppliers of bonsai trees anywhere in Australia. They offer a professional service which is both friendly and informative about the art of growing bonsais, so make sure you visit their site today!
They offer a huge range of bonsais for sale, so log onto their website now to see what they have available. They also have an experienced and friendly team who grow and design bonsais themselves.
Located in Perth, Bonsai Palace offer a professional service which is both knowledgeable and friendly about the art of growing bonsais. They stock only the highest quality bonsais for sale with a variety of species to suit all skill levels.
Having been in business for over 5 years they have extensive knowledge and experience with these beautiful plants so log onto their website today to see what they have on offer.
We are Australia's fastest growing online Bonsai supplies store, sourcing top quality Bonsai Tools, Pre-Bonsai Nursery Stock, Established Bonsai Trees, Bonsai Kits and Gifts. We also stock a huge range of Bonsai Accessories for beginners and advanced Bonsai Enthusiasts. We Deal direct with the manufacturers to give you the highest quality Bonsai Supplies, at warehouse prices.
We are an Australian online distributor for OSUKA Bonsai Tools, crafted from High Grade Stainless Steel, imported from Japan. We also stock the Carbon Steel range of OSUKA Bonsai Tools that are fantastic for the beginner or weekend Bonsai enthusiast. All of our Bonsai Tools are available with FREE Delivery Worldwide.
We are an authorised stockist of Tokoname Bonsai Pots and deal direct with the distributors in Japan to offer you the best prices. We are also proud to deliver our Exclusive Tokoname Bonsai Pots FREE to United States, Canada and some European Countries.
We include FREE SHIPPING on all bonsai supplies to Australia, New Zealand, Oceania and some Asian countries, so the prices you see listed here include delivery to your door.
Conclusion
It is possible to grow bonsai trees in Australia, but there are a few considerations that must be made. You may need to modify the soil so it has more drainage and requires less watering than other plants would require.
In addition, you will want to take care of your tree with regular pruning and shaping as well as provide sufficient light for growth throughout the day.
Finally, if you plant your tree outdoors make sure there is enough space around it or else they can become root bound which could lead them needing transplantation at some point down the road.